Minecraft Account Name:
zombiemobtv
How old are you?:
18
Time-Zone/Country of Residence:
EST/USA
What do you know about Roleplaying? Give a definition of what it means to you:
to live the life of a character of your own making.
In your own Words, define what the act of Meta-Gaming is:
to use knowledge that your character should not know, breaking the fourth wall
In your own Words, define what the act of Power-Gaming is:
to max your character, in skills,ect. in an expedient manner
Have you read, understood, and agreed to the rules?:
yes, i have read the rules. i agreed to the rules
Do you promise to abide by said rules, This includes the Server, and Forums:
i will abide by said rules
How much do you know about  the Avatar Series?:
i have seen most episodes of the last airbender and korra. i cant rember much, but still love the series.
What is your characters name,and age?:
Lóu gēn , 18
What nation is your character apart of?:
earth kingdom
Biography (Please make this at least 2 paragraphs long. This must include the history of your character and his life as well as age, appearance and personality, etc.):
born in small mining town, both parents imprisoned by bandits, grow up in the care of his uncle. for the first years of his childhood he was trained to be miner and smith. traveled the nation looking for a earthbending master, after finding his gift as an earthbender when he lift up a chunk of ore without touching it. caught by the bandit who took his parents. forced to make armor and weapons or be put to death. he forged one knife and took the man as his prisoner and demanded to know what happened to his parents. now knowing his fated end he set the man "free", he head for republic city, to make a living as blacksmith. can be found hard at work or sitting back and drinking some tea. is know to hunt anything that moves and can be eaten. is a good cook. made fun and looked down on by people and beaten by may of them. is not the best fighter. loves taking things apart and see how they work.
is 6 ft tall. 200 lb.
he has black hair and green eyes, wears green robes with yellow trim. no shoes and cover in dust. or wearing armor and with sword in hand.
is knew not to care for anyone but him self and maybe his friends and family.
put himself in to his work, may not be seen for weeks at a time.
Insert and image of your minecraft skin here! (A ssreen shot in F5 mode NOT the actaual skin!):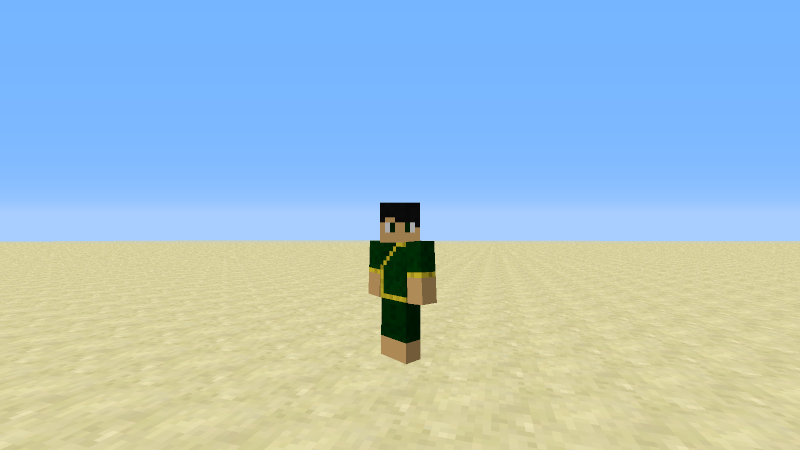 " />